Practice Building Program - Coming Late 2020
The Fusion Practice Building and Coaching program has been our flagship series for years. We applied the rule of 3 when designing this program for in-person participation - 3 seminars, 3 webinars, 3 coaching sessions and a series of assignments. Now, we are transitioning to video-based online training with specific homework and accountability reminders, group coaching with a closed social forum, and a complimentary parallel track for staff.
This accelerated practice building program assists new or seasoned practitioners in developing a well-crafted vision, properly-trained staff, reliable examinations and assessments, better communications and a solid ability to plan and follow-through.
Enrollment for this program is not yet available. Would you like to receive information about the release dates for this program and other group coaching opportunities? Subscribe below and we'll send you timely notifications.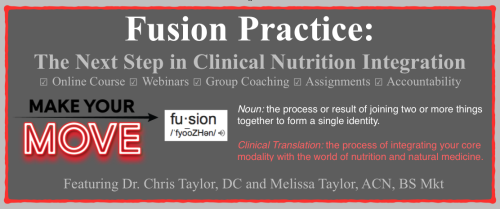 Subscribe